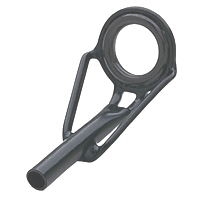 Pacbay BPHT
£
PT Tip Guide - Perfect for multiplier work & spinning rods. Hi alloy ceramic insert rings. Tough & durable. Stainless Steel black frames. handles braid well.
Tips are sized on the outside diameter of the eye insert/frame & inside diameter of the bore (to fit over rod)
As an example 10-3.6mm is a 10mm eye with a 3.6mm bore to fit over the blank tip
Leave sufficient to allow for glue
Matches BTHG & BTAG series guides.