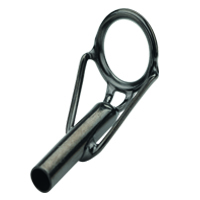 Pacbay KP4KT
£
PT Tip Guide - Perfect for multiplier work & spinning rods. 30% weight saving on ceramic rings. Very tough & light- Minima4 inserts are double swaged around frame.
Tips are sized on the outside diameter of the eye insert/frame & inside diameter of the bore (to fit over rod)
As an example 10-3.6mm is a 10mm eye with a 3.6mm bore to fit over the blank tip
Leave sufficient to allow for glue
For heavier tips use Pacbay (CXBT) to match Minima KT4KG.